A quality professional headshot can make a significant difference in your career, whether you are an actor, a corporate professional, or a small business owner. While a great headshot can make you stand out, a poorly executed one can just as easily put you in a less favorable light. Choosing the right headshot photographer is, therefore, crucial. To help you make the right decision, here are some essential questions you should be asking your potential headshot photographer.
What is your experience and specialization?
It's important to start by understanding the photographer's background and area of expertise. Do they specialize in headshots, or do they primarily work in other genres, such as weddings or landscapes? How many years of experience do they have? Remember, a specialist will likely have a deeper understanding of the nuances and techniques involved in creating a compelling headshot.
Hue12's Response: We have been immersed in the world of photography for numerous years, to the point where we've lost track of the exact count. However, in 2019, we made a conscious decision to focus our expertise on capturing captivating headshots, and ever since then, we have wholeheartedly embraced this specialization without any regrets.
Can I see a portfolio of your work?
Seeing a portfolio will provide insight into the photographer's style, creativity, and proficiency. As you browse through their past work, ask yourself if their aesthetic resonates with you. Do they capture the essence and personality of their subjects well? Do the photos seem professional and high-quality?
Hue12's Response: Certainly! Please feel welcome to explore the portfolio at your convenience. Should you have any inquiries or require further information, please don't hesitate to get in touch.
What's included in your service?
This question helps to avoid any hidden surprises later on. Some photographers might only offer the session itself, while others may provide styling, retouching, or printing services. Ask if digital copies are included and whether they provide the images in a high-resolution format suitable for printing and lower resolution for online use.
Hue12's Response: In all our headshot sessions, we strive to provide exceptional customer service, allowing for multiple outfit changes, a personalized proofing gallery, and delivering a selection of professionally edited images based on your chosen session. You will receive high-resolution, web-resolution, and social-media-resolution digital files conveniently through a download link. Should you desire physical prints of your images, we are pleased to offer that service at an extra fee. For current printing pricing, please refer to our Photo Printing page on our website.
What is your process during a photoshoot?
Understanding how a photographer operates during a shoot can help you know what to expect. Do they provide guidance on poses and expressions? How do they create a comfortable environment? A professional headshot photographer should be able to direct you well and make you feel at ease in front of the camera.
Hue12's Response: Our aim is to begin each session with an engaging "Getting to Know You" conversation, where we attentively listen to your desired outcomes for the session. We will then provide you with a clear overview of how the session will progress, ensuring you have a clear understanding of what to expect. Throughout the process, we actively encourage you to ask any questions that may arise, fostering an environment of open communication. Once we embark on capturing your images, we focus on the creative process, allowing you to relax and enjoy the experience.
After the session concludes, we will promptly send a personal proofing gallery to the email address you provide. This allows you to conveniently review and select your preferred images in the comfort of your home or office, without any high-pressure sales tactics. Once you have made your selections, we dedicate our efforts to post-processing your chosen images, enhancing their quality while maintaining their authenticity, and within 1-2 business days, we will deliver your finalized images to you via a secure download link for your convenience.
How long does a session typically last, and how many shots will I get?
The time it takes and the number of shots you receive can vary widely among photographers. It's crucial to know this in advance to ensure you're getting what you need. Ask if there's a limit to the number of outfit changes or looks during the session.
Hue12's Response: That's an excellent question! The number of images you receive depends on the session you select. For the Starter Session, the studio time typically lasts up to 30 minutes. During this time, you can expect to have approximately 30-35 images captured for each outfit, provided you go through the entire experience with each outfit.
Upon completion of the session, you will receive either two or four edited images, depending on the specific session you choose at the outset. It's worth noting that you also have the option to purchase additional images if desired, allowing you to expand your collection beyond the initial selection.
How do you handle retouching?
Retouching can make a significant difference in the final look of your headshot. Find out if they include retouching in their service, and if so, what their philosophy is about it. Do they aim for a natural look, or do they tend towards a more 'glamorous', heavily edited style? Make sure their approach aligns with your personal preference.
Hue12's Response: To ensure an authentic representation in our photography, we have embraced the principle of "less is more." We delve deeper into this topic in a dedicated blog article, which you can research here. In essence, our guiding rule is to remove temporary elements while preserving permanent features. However, we always prioritize the specific preferences of our clients. If a client requests any adjustments or alterations, we are committed to fulfilling their desires.
For instance, if a client expresses a desire to remove a scar or any other specific aspect, we are more than willing to accommodate their request. Our focus is to deliver the final images that align with our client's vision and desired outcomes.
To provide you with an overview of the retouching aspects included in each headshot session, we offer the following enhancements: spot/blemish removal, hair touchups, sharpening, color correction, teeth whitening, and subtle skin smoothing. These enhancements are carefully applied to refine the overall quality of the images while maintaining a natural appearance.
Our goal is to strike a balance between ensuring our client's satisfaction and preserving the authenticity of their unique features, resulting in headshots that truly reflect their individuality.
What is your turnaround time?
Knowing when you can expect to receive your final images can be essential, especially if you have deadlines to meet. A professional photographer should give you a reasonable estimate of their turnaround time.
Hue12's Response: We strive to deliver the edited images to you promptly, prioritizing both speed and quality. With this in mind, we kindly request our clients to allocate 1-2 business days for the completion of the editing process after they have made their final image selection.
By allowing this short timeframe, we can dedicate the necessary attention to detail and ensure that the edited images meet our high standards of excellence. We appreciate your patience and understanding as we work diligently to provide you with exceptional results within a reasonable timeframe.
What are your rates, and what is your payment policy?
Always ask for a clear breakdown of costs before you commit. You should know precisely what you're paying for and whether you need to make a deposit to secure your booking. Understanding the cancellation or rescheduling policy is also critical.
Hue12's Response: You can find our current rates listed on our dedicated Headshots page, where you also have the convenience of self-scheduling your session at a time that suits your schedule best. To ensure our undivided attention during your shoot and to eliminate any distractions, we kindly request full payment upfront when securing your session. This allows us to fully focus on capturing your headshots without the need for monetary transactions on the actual shoot day. Your comfort and experience are our top priorities, and this streamlined approach helps us provide a seamless and uninterrupted session dedicated entirely to your needs.
Can you provide references or testimonials from previous clients?
Feedback from previous clients can give you a good idea of what to expect. It can also provide insights into the photographer's professionalism, communication skills, and reliability.
Hue12's Response: Absolutely! We encourage you to explore our Google Reviews to gain insights from previous clients about their experiences with us. If you find that the specific information you're seeking is not covered in the reviews, please don't hesitate to reach out to us directly. We are more than happy to assist you and address any questions or concerns you may have. Our dedicated team will make every effort to provide you with the information you need to make an informed decision and ensure your utmost satisfaction.
What happens if I'm not satisfied with the final shots?
Sometimes things don't go as planned, and you might not be happy with the outcome. It's important to know how the photographer would handle such a situation. Do they offer reshoots or refunds?
Hue12's Response: Due to the nature of the deliverables being downloaded, we have a policy in place where refunds are not available. However, we understand the importance of achieving your desired results, and we are committed to ensuring your satisfaction. In the event that you are not completely satisfied with the images from the initial session, we offer the option of a reshoot, and we kindly request that you refrain from using the images from the initial session in order to maintain the integrity of the reshooting process. Our goal is to work closely with you to capture the headshots that meet your expectations and ensure a positive outcome.
Remember, there are no 'wrong' answers to these questions. They are intended to help you better understand the photographer's style, process, and professionalism, enabling you to make an informed decision. After all, your headshot is often your first impression — you want it to be the best it can be. By asking these questions, you're well on your way to choosing a headshot photographer who can capture your best self.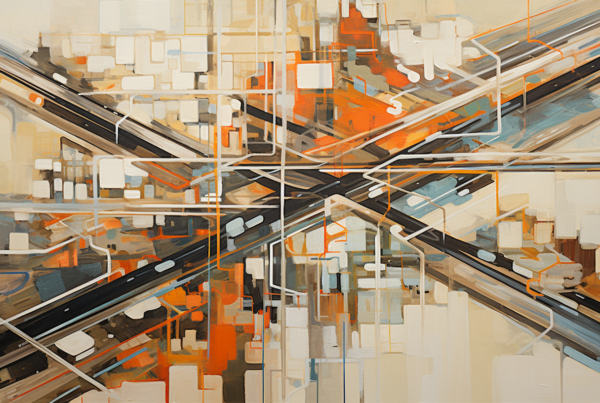 Navigating Professional Pathways: The Symbolism of Career Crossroads Embarking on the journey of "Navigating the Crossroads of Your Career with Professional Headshots in the Heart of Ohio" unveils the intricate…