Preparing for a headshot session can sometimes be a daunting experience, especially if it's your first time. But fear not – with a bit of preparation, your headshot can be an enjoyable experience resulting in a fantastic image that represents you professionally and personally. We will be discussing some key aspects including wardrobe, hair, and skin prep, including grooming for those with facial hair in this blog post–Top Tips for Men Preparing for a Headshot Session.
1. Wardrobe: What to Wear and What to Avoid
Choosing the right outfit for a headshot session can have a significant impact on the final result. Your outfit should not only reflect your personality and the image you want to portray, but it should also be comfortable and suitable for the setting of the headshot.
What to Wear
Simplicity is key: Plain shirts or sweaters in solid, muted colors usually work best for professional headshots. These choices keep the focus on your face.
Fitted clothing: Your clothes should fit well. Loose, oversized clothes can make you appear larger than you are, while tight clothes might make you appear uncomfortable.
Business professional or casual: Depending on your profession and the purpose of the headshot, you might want to dress in business professional attire or opt for a more casual look. For a corporate headshot, consider wearing a suit and tie or a simple button-down shirt. For more casual headshots, a simple t-shirt or polo shirt can work great too.
What to Avoid
Avoid loud patterns: Clothing with intricate patterns or bold prints can distract the viewer from your face.
Avoid flashy jewelry: As with patterns, shiny or large jewelry can be a distraction.
Avoid clothing with logos or text: Any logos or text will draw the eye away from your face.
2. Hair: Tips if Working with a Hair Stylist
When it comes to hair for headshots, the goal is to look like the best version of yourself.
Keep it natural: Whether you are styling your hair yourself or working with a hair stylist, the aim should be to keep it as natural as possible. Avoid any dramatic changes to your usual hairstyle.
Prepare for your session: Get your hair cut about a week prior to your headshot session. This gives it time to grow out slightly and look more natural.
Working with a Hair Stylist: If you choose to work with a hair stylist, ensure you communicate effectively with them. Show them pictures of your typical style, and if you have any specific preferences, make them clear.
Product usage: Avoid using too much product in your hair as it can make it look greasy or overly stiff in photos.
3. Skin Prep: Achieving a Healthy Glow
Skin prep is often overlooked, but it's an important part of preparing for your headshot session.
Hydrate: Drink plenty of water in the days leading up to your headshot. This can help your skin appear hydrated and healthy.
Sleep: Ensure you're well-rested before the shoot. Lack of sleep can lead to dark circles under your eyes.
Healthy diet: Consuming nutrient-rich foods can contribute to healthier-looking skin. Avoid salty foods as they can make your face appear bloated.
Skincare routine: If you don't already have a skincare routine, consider starting one. This might include cleansing, toning, and moisturizing your skin daily.
4. Grooming: Tips for Men with Facial Hair
If you have facial hair, it's important to ensure it's well-groomed for your headshot.
Trimmed and neat: Whether it's a beard, goatee, or mustache, ensure it's neatly trimmed. Uneven facial hair can distract from your face and make the image appear unprofessional.
Consistent: Your headshot should represent you accurately. If you usually have facial hair, it might be best to keep it for your headshot. If you're considering a change, do it well in advance of the session so it looks natural.
Product use: Similar to hair, avoid using too much product in your facial hair. It can appear greasy or overly styled.
When all is said and done, preparing for a headshot session involves careful consideration of your wardrobe, hair, skin prep, and facial hair grooming. Remember, the goal is to represent yourself authentically, professionally, and comfortably. The key is to prepare in advance and communicate effectively with your photographer and any other professionals you're working with.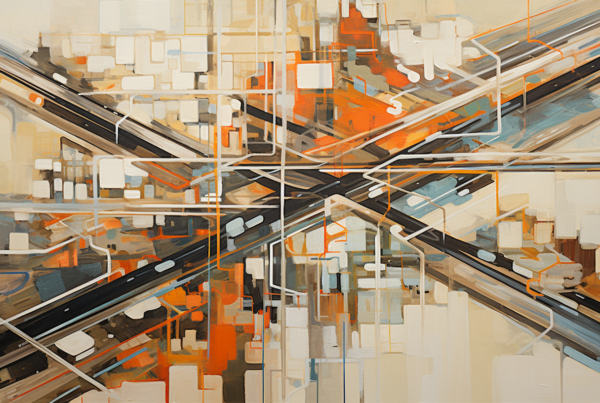 Navigating Professional Pathways: The Symbolism of Career Crossroads Embarking on the journey of "Navigating the Crossroads of Your Career with Professional Headshots in the Heart of Ohio" unveils the intricate…