Taking a professional headshot may seem daunting for many, especially if you're not accustomed to being in front of the camera. Whether you're a business professional, an entrepreneur, or someone seeking to update their social media profiles, having a quality headshot is a significant advantage. If the very thought of a headshot session sends your nerves into a spiral, this article – Find Your Zen: Making Your Headshot Session a Positive Experience – is for you. We're going to discuss how to overcome that anxiety, and how you can leverage the presence of a trusted friend or family member for a more comfortable experience.
Understand the Value of a Good Headshot
The first step in alleviating any anxiety is understanding the purpose and value of a headshot. A headshot is often the first image that people will associate with you, be it in a professional or personal context. It conveys your personality, confidence, and even credibility. Your headshot is a visual extension of your personal brand, and having a professional one can open doors for you.
Prepare Well
Preparation is key. When you know what to expect, you're less likely to feel anxious. Before your photo session, have a discussion with your photographer about your objectives and concerns. They are there to help you look your best, and understanding your expectations will allow them to guide you effectively.
Also, be mindful of your wardrobe. Choose something that makes you feel confident and represents your style. For instance, if you're a professional, dress the way you would for a job interview.
Practice Makes Perfect
Take some time to practice posing and facial expressions in front of a mirror. This may feel silly, but it will increase your comfort level during the actual session. Experiment with different angles and expressions to discover what works best for you.
Consider Bringing a Trusted Companion
Having a familiar face in the room can significantly alleviate nervousness. You're welcome to bring a trusted friend or family member to your session. They can offer emotional support, help you relax, and even provide valuable feedback during the shoot.
Remember, your companion is there as a supportive figure, not as a distraction. Ensure they understand their role and are respectful of the photographer's direction and workflow.
Communicate with Your Photographer
Professional photographers are well-versed in dealing with nervous clients. Don't be shy about expressing your anxieties or concerns with them. Their job is not just to capture a great image, but to make the process as comfortable for you as possible. Share your preferences and fears with them, they will guide you through the session, and offer tricks and tips to help you relax and present your best self.
Embrace Imperfection
It's natural to want to look perfect in a headshot, but it's the little imperfections that often make a photo look authentic and endearing. So don't stress over a hair out of place or a small blemish. Instead, focus on exuding your personality and character. The best headshots are those that capture you being you.
Breathe, Relax, and Enjoy the Process
It's crucial to relax and enjoy the process. When you're relaxed, it reflects in your pictures, resulting in a more natural and authentic headshot. Remember to breathe deeply, laugh, and try to enjoy the experience.
Getting a professional headshot should not be a nerve-wracking ordeal. With the right mindset, preparation, and the comfort of a trusted companion, your photo session can be an enjoyable and rewarding experience. Your confidence will shine through in your photos, and you'll be left with a headshot you can be proud of. So go ahead, take the plunge, and present your best self to the world!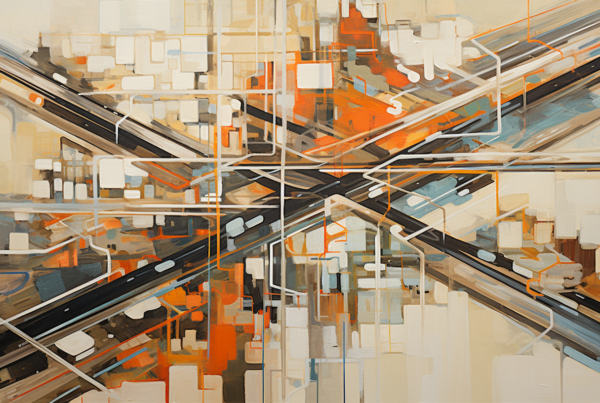 Navigating Professional Pathways: The Symbolism of Career Crossroads Embarking on the journey of "Navigating the Crossroads of Your Career with Professional Headshots in the Heart of Ohio" unveils the intricate…